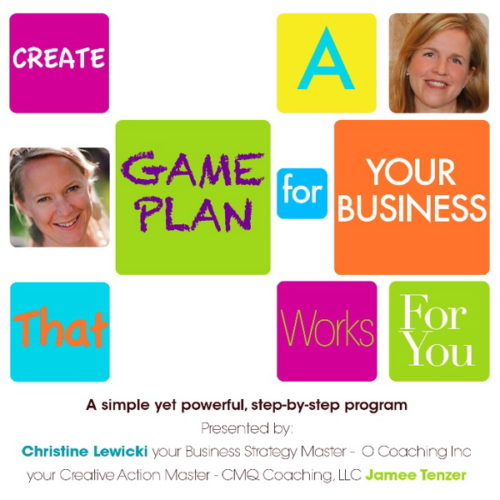 "Learn to Create an Easy-to-Follow Game Plan for Your Business"
With this Simple yet Powerful, Step-by-Step Program
Attention Entrepreneurs:
* Do you feel that no matter how much you do to move your small business idea forward, you are spinning your wheels and getting nowhere?
* Do you procrastinate when it comes to taking action toward success?
* You know you have an expertise or great idea, but do you sometimes feel stranded and clueless when it come to business building and promotion?
* Do other priorities consistently get in the way of your ability to work on your business?
* Are you ready to get some help and create a business strategy that really works for you?
Don't worry, you're in the right place.
We've streamlined the process for you! We're going to give you everything you need to create YOUR gameplan and finally give a strong foundation to your business growth!
Simply follow the steps. It's that easy!
Chances are, you decided to start you own business because you wanted to gain more freedom, more flexibility and the ability to work for yourself and run a business that is in tune with your lifestyle. We are even hoping that you started your business to make an impact in the world – that you want to contribute and make a difference through your work.
And if you are still reading this page it's probably because you are not satisfied with your results. You haven't' figured out a strategy to generate profits and make it worth all your efforts. Is that right?
Any business requires a Game Plan! And we want to help you create yours.
"It is one of the best investments I made for myself and my business"
"I highly recommend their program to any woman who wants to start a business or take an existing one to the next level (like me).
They are absolutely wonderful, serious and empowering coaches, and offer great tools to entrepreneurs.I have already attended 6 teleclasses and each week look forward to it.
It is one of the best investments I made for myself and my business."
~Leonora Di Mauro – Italy in Style – www.italyinstyletravel.com
This Exciting Self Study Program takes You Step by Step through Jump-starting and Growing Your Business
* Are you sick and tired of procrastinating when it comes to making those important business decisions?
* Do you want to get out of confusion and into action?
* How would you like to be able to utilize the expertise of two professional business coaches who have built their own successful businesses and specialize in coaching small business owners just like you?
Here's what you'll get, in this amazing program:
√ 10 recorded classes on CD (20 to 30 minutes each) recorded by Christine and Jamee that will take you step by step through the creation of your unique Business Game Plan.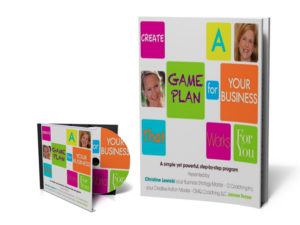 √ A very well crafted Game Plan playbook with step by step instructions and exercises to help you lay out your strategy.
√ You will also move past internal and external hurdles
√ You will identify winning strategies and solutions so that you are able to put your Game Plan into action.
√ All of it will be shipped to your home or office.
AND THAT'S NOT ALL…
By the end of this program, you will have a unique Playbook for your business that will include:

* Your business theme, objective, philosophy and mission statement.

* Clarity of intention, purpose and value related to taking your business to the next level.

* A Marketing Plan that you create that reflects your unique business goals including; the identification of your target market and niche, market research, development of marketing tools and outlets, your USP: (Unique Selling Proposition) and more.

* The structure needed to complete a unique operating plan for your business including physical, mental and financial space.

* Strategies for moving forward when faced with unexpected obstacles.

* An Action plan that is designed around the objectives of your business so that you can stay in action long after this program is over.

* And much more…
It doesn't have to be hard or overwhelming to take steps toward starting your business.
The people who have benefited from Game Plan For Your Business are just like you.
With this simple step by step process they were able to create key foundations for their business in just a few weeks.
Are you ready to make this year, THE year that you get a handle on your business?
After all, YOU deserve to have the successful business of your dreams!
Christine and I want you to succeed, and fulfill your entrepreneurial desires. So much so that right now we're offering a 50% discount on the purchase of this one-of-a-kind program.
Important Note:
To receive your 50% discount, use this special code during checkout: 530
It won't be available at this low price for long so I encourage to take advantage of this offer now.
We've really done everything we could to make this a no-brainer for you.
We hope that you'll take advantage of this very unique offer.

Your satisfaction is assured through our NO RISK, "YOU-CAN'T-LOSE", 100%, NO-QUESTIONS-ASKED, IRON CLAD MONEY BACK GUARANTEE.
Now that's as strong as we can say it.
We have spent hours and hours developing this program and we KNOW that you can jumpstart your business if you implement our suggestions.
However, if for any reason, you've been through the program and you aren't thrilled and satisfied with it, just contact us within 3 months and we'll refund 100% of your purchase price.
No hard feelings. No hoops to jump through. FAIR ENOUGH???
What have you got to lose?
We are thrilled to offer this step by step, easy and fun game plan for your business program.
Our mission is to help you celebrate your way to wealth and step up into the power of your professional life as an Entrepreneur.
We can't wait to get you started.
Love and Success,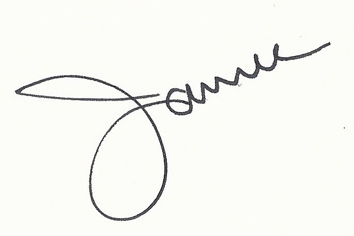 Jamee Tenzer PCC & Christine Lewicki ACC
P. S. Just imagine, by the end of this program, you will not only have a game plan, but you will already be working that plan and seeing results. Don't miss this opportunity. Make this the turning point of your business and your life.
Have any questions? Send an email to support@gameplanforyourbusiness.com
About the Authors:
Jamee Tenzer
Jamee Tenzer is a professional certified life and career coach for women. She is also a trainer for the International Coach Academy, certified mediator and published author.
Jamee's coaching clients are smart, high-powered, busy and often overwhelmed and exhausted. They come to her because they have no time. Or, they feel they are limiting themselves at home or in their career. They may be procrastinating in certain areas even though they are highly motivated in others.
Whatever the issues is, Jamee cuts to the heart of the matter and helps women create a life that truly works for them.
She is the "Creative Action" master of this program.
Prior to becoming a Coach, Jamee worked as a talent executive and producer in the television industry. She worked on numerous Network series' and specials including the Oscars, American Music Awards, Golden Globes, Opening of the Hard Rock Hotel in Las Vegas and ShoWest.
She worked for the William Morris Agency, Dick Clark Productions, ABC Productions and on shows that aired on all the major networks. Her proudest achievement was the co-development and production of the MTV Series; "Music In High Places," where she served as a producer and also the marketing director, interfacing with MSN, Mastercard and RadioShack.
Plus, she's a real mother, too. She's has a great husband and three children who give her endless experiences, learning opportunities, love and fodder for her musings on her blog: she's a real mother!
Jamee's a member of the International Coaching Federation, Producers Guild of America and Academy of Television Arts and Sciences.
Christine Lewicki
Christine is a Bilingual French and English certified Business Coach. She is serving clients in the US, Canada and Europe. She offers mentoring groups programs, MasterMind groups, One on One VIP days in Los Angeles and Paris.
Christine is also an International sought after public speaker on the topics of business strategy, sales, marketing and mindset.
She is currently serving on the Board of Directors of the International Coaching Federation of Los Angeles.
Christine believes that at the core of every professional there is a strong desire to serve and contribute. But she noticed that too many entrepreneurs are frustrated and not getting the results they want.
They are experts in their field but they resist embracing their new found Entrepreneurial identity. They are the best at what they do but they feel stranded and clueless when it comes to business.
She is the "Business Strategy" master of this program.
In 2007, Christine founded O Coaching, an integrated professional coaching firm grounded in the core philosophy that Entrepreneurship is the ideal playground for professionals to get the fulfillment they are seeking. Christine strives to guide entrepreneurs to setup simple and sharp sales and marketing strategies and a game plan that allows them to be authentic and monetize their expertise.
If you would like to pay by check, please contact us at: register@gameplanforyourbusiness.com and we will give you payment information.
www.gameplanforyourbusiness.com
CMQ Coaching, LLC and O Coaching, Inc.
P.O. BOX #366 149 SOUTH BARRINGTON AVE. LA, CA 90049
310/471-3382