And.. it's just in time for Mother's Day!
Some of you may know that I have been working on a book for over a year now.
"Balance Your Work and Family Life with Less Stress and More Fun!" is a compilation of my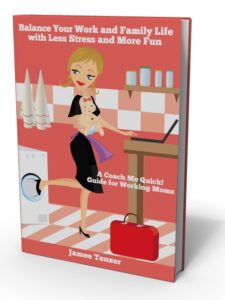 articles on many subjects from Overwhelm and Letting Go of Guilt to Replacing Stress with Fun and Embracing Imperfection.
My goal when putting this book together was to create a humorous and useful resource for working moms who don't have time to slog through a lot of info on the way to solid strategies.
This book offers quick and easy ideas that women can implement immediately, to optimize their experience of work, home and play.
I've divided it all into easy-to-access sections:
Time Management
Self Care
Mom's Work Too
At My Wit's End, Parenting
Less Doing & More Being
Achieving Goals
And more
with solid tips and strategies that busy working moms can realistically implement to make life better, less stressful and more fun.
The sections are easy to read while waiting for children at soccer, dance class, dentist appointments, etc.  OR, when you need to take a break from writing that report for your boss.
I am really excited about this and I hope that you will consider giving it to yourself for Mother's Day or to another working mom who could use a good laugh and a few new ideas.
You can purchase the book as an e-Book, in Kindle version or paperback.
Here's the link to learn more:  www.jameetenzer.com/balance 
I would be so honored and grateful if you would pass it on to your friends.