"What if Embracing Imperfection, was the Secret to Peace?"
Wouldn't that be great news?  And with the expectation of perfection gone, like a couple of unwanted visitors  – guilt and stress will be packing their bags too.  At a minimum, life will be more fun without those three at the breakfast table.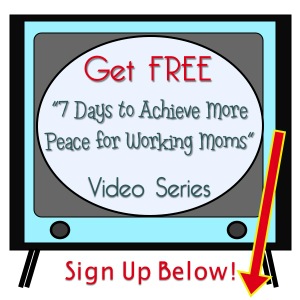 I hear you saying that this isn't as easy as it sounds.  We want things to be a certain way.  We want our children to have the best.  We want to be top performers at work.
But the truth is, embracing imperfection is easier than you think and it is one of the most important keys to the experience you want of life – for yourself, your children and your community.
The FREE  7 Days To Peace Through Imperfection video series helps you change the way you view your life, in just minuets a day.  Through this simple series you will learn to:
*  Include more self care in each day without giving up anything you are already committed to
*  Implement strategies to dis-empower the thoughts and feelings that get in the way of you enjoying your busy active life.
*  Learn quick tricks to focus on your body, mind, work and family that will make you feel great about who you are and what you are doing in life.
*  See your perspective and experience of life change in one week.
 
"Not convinced?  Ok.  You are a working mom with a busy life.  Has this ever happened to you?"
You know you need more exercise and have committed to work it in to your day.  Because you are a list maker and planner, you create an exercise routine.

You are going to get up an hour before your sleepy eyed children roll out of their cozy beds, to run on the treadmill and do a bit of yoga.  You set your alarm clock. You can't wait to begin.  You are feeling stronger already.

Monday morning rolls around and the alarm clock goes off.  Bright eyed, you fly out of bed and onto the treadmill.  By the time your kids tumble into the kitchen, you are ready for them with hugs and a quick bite before they head off for their day.

PERFECTION!  It feels so good when things work out the way we PLANNED them.  We feel good because we hit the mark and we give ourselves a pat on the back.

But here's the tricky part.  Can you give yourself a pat on the back when IMPERFECTION shows up on Tuesday morning?

The alarm clock goes off.  You have a bit of a headache because you had a difficult discussion with your husband about finances last night.  You still get on the treadmill, but you do a bit less than you did the day before.  Yoga?  I don't think so.  You just don't want to. 

You tell yourself you will do twice as much tomorrow to make up for it, but all day you are feeling like you came up short and give yourself 0 credit for what you did accomplish.

Wednesday hits you at a high energy point.  You do even better than Monday!  Great job.  You feel really proud of yourself.

Ah! The sweet smell of PERFECTION.  We just love it when we hit the mark.  But what about when we don't? 

Here comes Thursday.  Are you kidding me?  You were up until 1am with a sick child.  You have a huge report due at the office and a boss that is not patient or flexible.  You pull the covers over your head to get that extra 20 minutes of sleep.

 No exercise happens on Thursday.  Wow. IMPERFECTION.  This is hard to take.  You are a little frustrated with yourself.  

Friday morning.  You are weary.  It has been a long week.  You can't bring yourself to get on the treadmill, but you do 30 minutes of yoga.  You feel some clarity as you start the day.  

You recommit to your exercise plan for next week but are disappointed in this week's results.  There is no celebration – not even for what you did accomplish.
If this sounds familiar the  7 Days To Peace Through Imperfection  video series can empower you to celebrate and embrace all of you; perfect and imperfect.
Imperfection = Peace  (learn the secret connection)